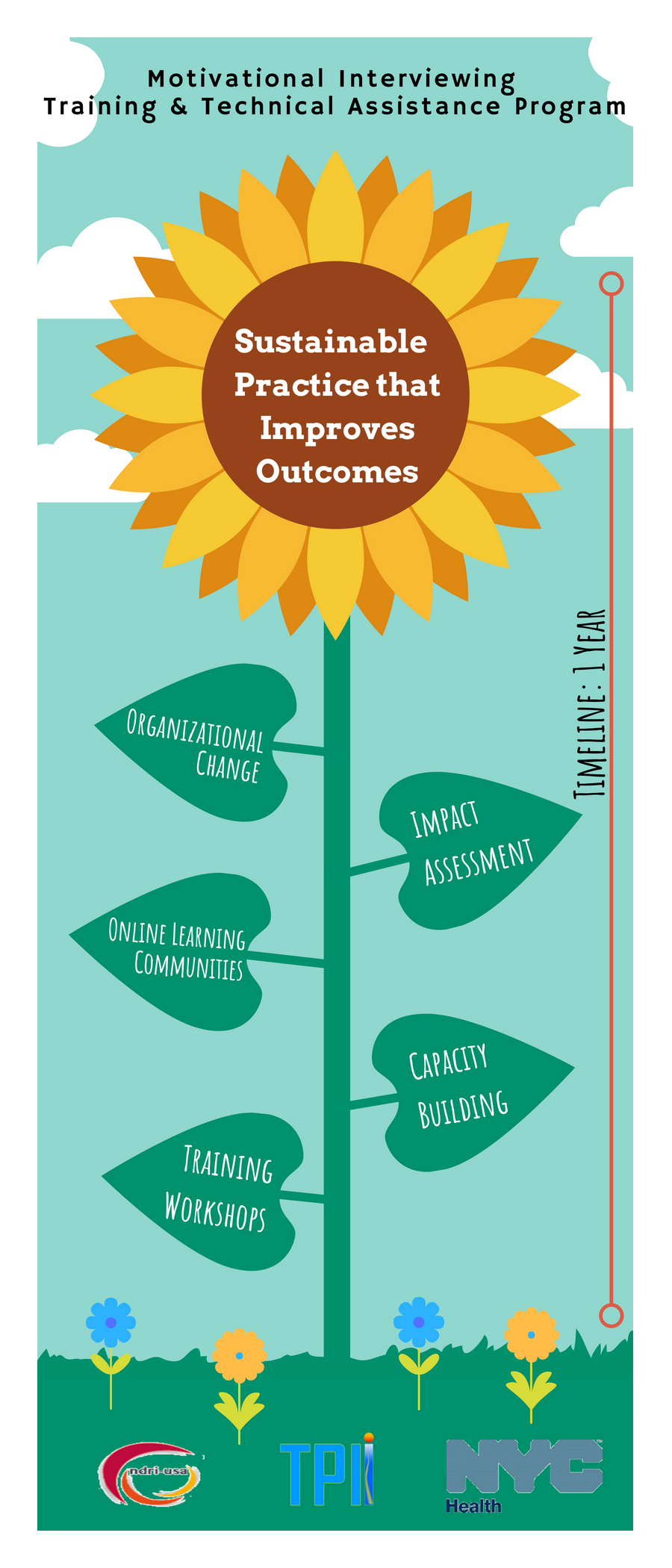 Opioid overdose deaths have reached epidemic levels in New York City. In addition to pharmacological interventions, such as dissemination of naloxone to reverse overdoses and increasing the availability of medication assisted treatment for opioid dependence, the NYC Department of Health and Mental Hygiene (DOHMH) seeks to increase the implementation of Motivational Interviewing, an evidence-based practice used to address substance use disorders (SUDs) and the opioid epidemic.
OASAS regulations and guidance pertaining to Credentialed Alcoholism and Substance Abuse Counselor (CASAC) training cover motivational and client-centered practices like stages of change but do not specify particular evidence-based practices (EBPs). Health professionals who wish to use specific EBPs often must attend an institute or other costly training to receive high-quality feedback and the supervision needed to effectively implement an EBP. Furthermore, many interventions found to be effective in research studies fail to translate into meaningful client outcomes across multiple settings because of differences between the original study context and the programs seeking to implement the intervention (Damschroder, 2009). Finally, there are often insufficient funds to pay for the support necessary to ensure that new modalities are incorporated into practice.
Funded as part of the Mayor's initiative to address the opioid overdose crisis and improve opioid related health outcomes in New York City—HealingNYC— (www1.nyc.gov/site/doh/about/press/pr2017/healingnyc.page) DOHMH has partnered with NDRI-USA to establish the Training and Practice Implementation Institute (TPII). The TPII will provide a unique opportunity in which selected OASAS-licensed 822 (Opioid and Outpatient Treatment) Programs will receive extensive training and on-going implementation support to build towards sustained integration of the EBP of Motivational Interviewing at no cost to the program.
In order to be considered for participation in this Institute, programs must complete the brief Appendix A – Application below, which can be emailed to Jennifer Rogers at rogers@ndri.org. Spaces are limited and programs will be considered for inclusion based on the date applications are received.
If you have additional questions about the program, please contact Michael Chaple, Project Director, at chaple@ndri.org or (212) 845-4539. Please note that to be eligible to participate, applications must be received by 5:00 PM, September 14, 2018.
Please download and view the flyer below for more specific information about the application process and training/technical assistance activities.